Life Coaching as a Career
Life coaching can be deeply rewarding. Life Coaches motivate and inspire individuals and businesses to reach success, whether they are searching for personal fulfillment, improved relationships, health, career success, sales and management skills, or executive leadership. Life coaching is acknowledged today as an essential part of the booming 11 billion dollar self-help industry. Explore the 6 reasons people become a life coach and the 5 qualities required for a good coach. Find out how the coaching industry operates, how you get training, and what the opportunities might be. Cheryl Bartlett is a graduate of the world-renowned Mastery University and Leadership Academy by Anthony Robbins where she learned from top work achievers such as General Norman Scwarzkopf, Jay Abraham, and others. She has been coaching for 20+ years and is eager to share her wealth of experience with anyone considering this as a career or as a way to enhance the work they already do.
To register for Life Coaching As a Career workshop through Colorado Free University, click the registration links below
November 17, 2018
January 12, 2019
---
Life Coach Certification Training Program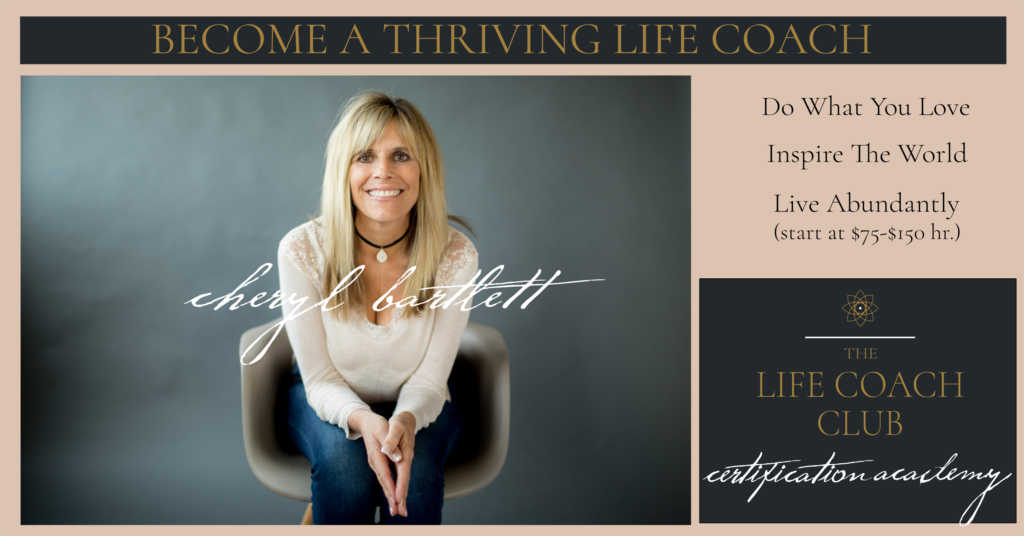 "Life Coaching Certification: From Ground Zero to Launch"
GET YOUR NEW COACHING BUSINESS UP AND RUNNING IN 6 MONTHS
Next Course Launches January 2018! 
SAVE YOUR SPOT NOW
Life Coaching has been called "a recession proof industry" and is a sought-after career around the world because it offers the immense emotional and financial rewards that gift you the freedom, fulfillment and deep purpose you crave in a career. With the opportunity to assist others in attaining their highest aspirations – whether you're helping businesses, individuals, family, friends or looking to help charities – this career helps everyone prosper and grow!
Finding a Life Coach Certification program that focuses on your unique talents and delivers the professional standards you need to authentically launch your success is not as difficult as it may seem. Life Coaching Certification: From Ground Zero to Launch is a program designed to fit your personal needs so you can walk away with an exclusive education that ensures that you have the strategies, skills, knowledge and the clear confidence that it takes to be a highly effective & respected Life Coach and not just one with a piece of paper stamped "certified".
Champion People's Lives While You Earn a Lucrative Income!
"Many people come through my Learn About the Life Coaching Industry classes who have been dreaming of becoming a successful Life Coach for years. They truly want to do what they love, while having the financial freedom and flexibility to live life on their own terms, but each time they try to step forward they seem to get pulled back. For many, they already have skill sets in place that can truly serve humanity but they lack the knowledge of how the industry works to move forward in confidence while building the business platforms needed for success. My program "Life Coaching Certification: From Ground Zero to Launch" was specifically created with this mind. I have designed this particular program so that you are personally guided through manageable steps, organized with time saving methods, that will get your new business up and running in 6 months' time while spending approximately 3 hours a week!   The training syllabus allows you to follow right alongside me and before you know it you will have your business platforms completed without any excuses pulling you back!
"Life Coaching Certification: From Ground Zero to Launch"
Will Get You Where You Need To Go
IN THIS FUN PROGRAM YOU WILL:
LEARN WORLD RENOWNED LIFE COACHING STRATEGIES: Human Behavior Overview, 7 Steps to Mind Mastery & Personal Empowerment
DESIGN YOUR NEW COMPANY: Mission, Purpose, Proposal, Features/Benefits, Niche Assessment, Market Research
CREATE YOUR PERSONAL BRANDING: Individual Imaging, Unique Sales Proposition
CREATE YOUR BUSINESS BRANDING: Brand Strategy, Logo, Messaging, Headline, Tagline, Brand Standards
COMPOSE YOUR UNIQUE LIFE COACH TRAINING PROGRAM: Mind Maps, Creation, Offers, Testing, Pricing
HARNESS THE GIFT OF PUBLIC SPEAKING: Keynote Application
DEVELOP YOUR ADD ON PRODUCTS: Educational Tools, Residual Income
ESTABLISH YOUR WEB/SOCIAL MEDIA CONTENT: Links to the Marketing Experts
FINALIZE YOUR PROMOTIONAL MATERIALS: Business Card & Flyer Content
MAP OUT YOUR MARKETING PLAN: Marketing Map / Application
FORMULATE YOUR MASTER MIND GROUP WITH OTHER GRADUATES: Select Your One on One Partner & Line Up Group Support
CELEBRATE YOUR COMPLETION: Closing Party, Business Launch & Ongoing Support!
YOU ARE NOT A NUMBER HERE!
"Life Coaching Certification: From Ground Zero to Launch" makes your steps easy. I have personally used these same coaching, marketing and selling strategies for 17 Years to build my own Life Coaching practice. I work from home 75% of the time, I create my own schedule, I set my own fees and most importantly I lay my head down to rest every night, knowing that I have impacted lives and empowered progressive change for the planet. I have championed thousands of lives throughout my glory years through private coaching, workshops, retreats and public speaking. I am blessed beyond measure to have the opportunity to share my experience and expertise with new Life Coaches like you, as you launch the career that will bring unimaginable Miracles to your life and the lives of all you touch. I have had a blast teaching and training Coaches, because unlike many coaching programs where you are just a number and no one even asks about your Unique Talents, in my program we become friends while I foster our relationship with great care. My program has a limited number of attendees to ensure your success and I am so sure that you will be overjoyed by the benefits that I have even created a 100% Money Back Guarantee for you so you don't have to worry about excuses holding you back anymore. My proven results have worked like magic for others and I know it will do the same for you!
IN 6 MONTHS YOU WILL BE HELPING OTHERS WITH:
Health & Appearance
Wealth & Finances
Jobs & Business
Relationships
Personal Development
Spiritual Awakening
Passion, Relaxation & Fun
IN 6 MONTHS YOU WILL BE DOING WHAT YOU LOVE:
Earn a Rewarding Income
Set Your Own Hours
Control Your Own Fees
Enjoy Fulfilling Work
Take Pride In Helping Humanity
CELEBRATE YOURSELF!
Because your future success as a Life Coach is based on Personal Branding, Anchoring Your Unique Niche and Learning Proven Life Coaching Strategies I am offering a FREE 30 minute Empowerment Session where I can listen to your individual goals and help answer all your questions about the industry and this program. You will walk away from your Empowerment Session with expert advice and personalized nuggets to Jumpstart Your Career – no strings attached! At the completion of your consult I will also send you a Free 6 Page Report: Is Life Coaching For Me? which will walk you through the Life Coaching Industry Standards & the Benefits of Life Coaching to wrap up your final questions to Launch Your New Life Coaching Career!
GET READY TO:
Step into your courage and never look back
Discover the strategies to usher in success and happiness in life
Earn a rewarding income by helping others solve their life and business challenges
Enjoy fulfillment in a career that opens your heart and gives you the deep purpose you crave
Enjoy the respect, gratitude and admiration of those you help and the industry at large
Work from any location on earth, set your own hours and choose your own fees
Raise the levels of consciousness in your own life, the lives of your clients and the planet
Find the contentment you have been searching for but didn't know how to get
THE NEXT STEP IS YOURS
I did my part by designing this program with your needs in mind, so the next step is yours! I understand that your life is busy and you need an official training model that is flexible, fun and designed to fit your personal needs. This course is a mix of Live Training's, Tele-Classes, Downloaded Case Studies and a Progressive Workbook that allows you to invest around 3 hours a week, for 6 months, to reach your ultimate goals. The simplified, step by step model and the support of a loving group lets you move at your own pace without overwhelm.
STORM PAST YOUR MINDS EXCUSES
Join along with us, Step Up To Your Glory and begin reaping the rewards of this ever expanding- 11 BILLION DOLLAR Self -Help Industry at a price you can afford:
Life Coach Launch $4399.00 for 6 Month Certification Course!

Call me today to schedule your FREE 30 Minute Consult 
&
Show the World Your Shine!
(First Come First Serve Basis, Class Sizes are Limited for Personalized Training) 
CALL Cheryl NOW: 303-885-3291
I look forward to fostering your dreams and our friendship!
Outrageously Blessed,
Cheryl